Claudia R. Bosworth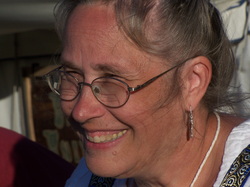 Claudia R. Bosworth is a long time educator having studied nursing,
curriculum development, and science. She was a Maryland state nominee
for Disney's Science Teacher of the Year and a recipient of the largest
grant given in the state of Maryland for building and designing an
outdoor classroom for student study with indigenous plants. Claudia
has been a historical re-enactor and educator since 1971 in several
different organizations, receiving awards from Bulgarian Embassy officials,
Soviet People's Cultural Exchange, Ohio State Cultural Exchange and the International Costumers guild. She currently lives in Maryland with her husband and cat Dubh Bidh, where they teach those that are and would be willing to learn.
Co-author on Magic Scissors Goes Heraldic

---