Deborah Kalinyak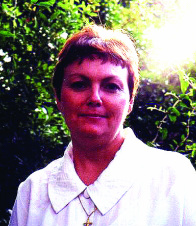 Deborah Kalinyak, a licensed mental health counselor in Central Florida , is gaining national attention for focusing on the need for spiritual health in the mental health arena. She often gives talks on this subject as well as leading seminars and retreats. Ms. Kalinyak holds a master's degree in mental health counseling and has been in private practice for nearly a decade. She is a member of the Association of Christian Therapists, an international association of Christian health care workers. She is one of the founding members of the ecumenical Sacred Way Ministries, whose mission is to "minister to the ministers," to pray for, and spiritually feed, those lay people and pastors who are on the front lines serving God and His people.
Ms. Kalinyak is married and the mother of two teenagers.
For more information about Ms. Kalinyak's speaking and seminar calendar, or to order additional copies of
Hope for the Wounded Heart
, please contact
Sacred Way Ministries
.
---