It's all about the story. What is your story? How will you share it—tell it, write it, print it. Talk to us and find the right way to share your story.
---
---
Let us help you Countdown to Christmas with our newest book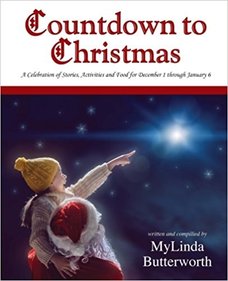 Christmas is a magical time of year. Friends and family gather closely by the fire with warm cups and warmer hearts. Merriment and festivity are the order of each day, and goodwill toward all is shared and celebrated. Christmas is a time for family, a time for sharing stories, activities, food, and a fabulous way to create memories.
Countdown to Christmas
provides all of the above. Award-winning author and professional storyteller, MyLinda Butterworth, has packed this book with 37 days of Christmas with old and new stories, fun crafts and activities and tasty food for December 1st through January 6th the final day of Christmas or Epiphany. A modern day advent calendar with an old-fashioned Christmas feel, a book that you can follow everyday or pick and choose what things to do, read or eat each day. So sit back, open the pages of this book and immerse yourself in the joy that is Christmas and carry that feeling with you all year long. 248 page • $19.95 available at
amazon.com
#CountdowntoChristmas - #MylindaButterworth
---
---
Other Books to Enjoy this Holiday Season
| | | |
| --- | --- | --- |
| Here's a remedy for what ails the modern Christmas. Just 24 Days Till Christmas, a book for all ages which delivers what today's Santa's can't-the directions and fun to be found in celebrating Christmas as a family with a smorgasbord of activities for everyone, young and old, children and adults. For more information about this title see it under Our Books button or buy it now for $16.99 at amazon.com #Just24DaysTillChristmas - #MylindaButterworth | | Winter Fun With Magic Scissors™ was created for the child in each us. When the air is brisk and there is snow on the ground some will want to go outside and play, while others wish for something quiet and creative. Winter Fun allows you to spend hours with simple tools like paper, scissors and paper punches to create snowflakes, fairies, angels and a multitude of other winter inspired images. For more information about this title check it out under the Our Books button or buy it now for $12.99 at amazon.com |
---
While the world is turning 'round and 'round and you are trying to decide what needs to be done with your book next, we can help. We are a one stop book shop. Where you can have the

cover designed

, the

interior designed

, illustrations created and someone to take you all the way to grandma's house (not really, but it sounds good). But we can

coach

you on each of the steps you need to take to make your book ready to see the light of day. So check out our different book creation services and when your ready

drop us a line

.

Storytelling is the fabric of life. It fills every part of our lives from the stories shared around the kitchen table to the conference room to the stage. Stories connect us all.

Totally Stories

is where you will find our storytellers and authors whose experience and talent will delight and entertain those who are fortunate enough to hear and see their magic.

Workshops should be educational or inspirational or so we have been told

...but what about fun? We believe that through the world of story any workshop can be valuable as well as entertaining, educational, inspirational and it can also be fun.


So look at the workshops we have to offer and if you don't see what you want then ask us to custom build one for your school, business or group. Workshops can be creative and keep your attendees awake and still provide the type of training you want to happen. So take a chance on our creative spin to learning.