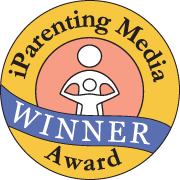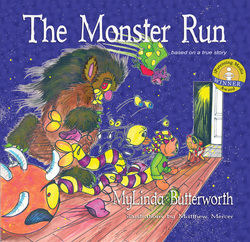 The Monster Run
by
MyLinda Butterworth
illustrations by
Matthew Mercer
winner of the
iParenting Media Award
Nicole is afraid of the dark. No matter how many times her mommy tells her there are no monsters, Nicole
knows
they are hiding in her room — in the closet, under her bed, and in the clothes she sometimes leaves on the floor.
Sound familiar? Most children know what Nicole is going through — and most parents can relate as well. But how can a parent calm these fears?
MyLinda Butterworth offers a novel solution in her new book,
The Monster Run
. Written by Butterworth, with colorful and amusing illustrations by Matthew Mercer,
The Monster Run
is "based on a true story." "When my daughter excitedly told me how Papa had chased away the monsters forever, I was skeptical," admits Butterworth. "But true to his word, the monsters never came back to our house."
Children, parents, and of course, grandparents, will love the fun yet easy way to banish monsters forever, yet leave any child feeling safe and loved. The perfect bedtime story.
Other bedtime tips Butterworth (and
her
parents) suggest include a routine like the one Nicole follows in the book, getting a story, a lullaby, and having a nightlight turned on. Butterworth hopes that
The Monster Run
will help many more children find peace in the darkness.
Publisher Comments
:"This book does what a classic bedtime storybook should— it gives giggles and comfort. It allows you to empower a child with the ability to get rid of the monsters in the house with the loving help of an adult. We believe you will be find the "based on a true story" approach gives you and your children an I can do it to feeling. We however warn you that you might actually have to chase the monsters from the house after reading the book to your kids over, and over and over again."
Author Comments
: "There is nothing like a real life experience to inspire you to write a book. So it was with "The Monster Run." As most parents know going out with your spouse when your kids are young is a treat, but coming home to hilarious stories is choice beyond words. Hearing about how my father chased the monsters from the house with my 4 year old daughter was a laught a minute, I only wish I could have seen it. It is my hope that just like my daugher you will find peace in the darkness."
"P.S. The monsters never came back and we all lived happily ever after."
---
Read our Book Reviews

Age Range: 3 and up

Hardcover: 32 pages $14.95

ISBN-10: 1890905232