MyLinda Butterworth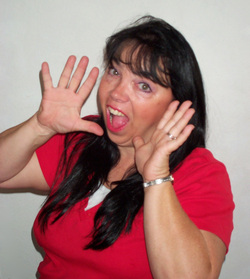 MyLinda Butterworth is the owner and Creative Director of Day to Day Enterprises an independent publishing house since 1997. She is the award-winning author of
For Health's Sake: A Cancer Survivors Cookbook
and
The Monster Run
.. Other books to her credit are
Just 24 Days Till Christmas
and
Frogazoom
! Besides being an author she has won awards for her interior book design work and continues to produce other award winning books from her publishing house.
MyLinda's face first appeared on television at the young age of eight months as the winner of the Queen for a Day contest which led to modeling baby clothes. Never having outgrown the big lights she has graced the stage in song and dance as an actress from coast to coast. She also was an award winning costume designer and owner of her own theatre company. Today she can be seen performing as a member of
Totally Stories
(formerly
StoryMasters)
a storytelling team that tours schools and stages across the country. MyLinda has a BFA in theatre education and communications from Brigham Young University and graduate work in costuming from Arizona State University and is has a Masters Degree in Storytelling from East Tennessee State University. She currently carries the title of Royal Bard for the Kingdom of Atlantia with the
The Society for Creative Anachronism.

When not writing, designing books or storytelling MyLinda can be found in the kitchen trying out new recipes (she is a real Mrs. Butterworth), in her sewing room creating new period garb, piecing a quilt or participating in historical re-enactments with the SCA. Apart from her professional life she likes her role as mom to her two children best of all.
---
High Resolution photos which can be used for media purposes. Right click on mouse and the select save image.