Top Sellers

---
New Title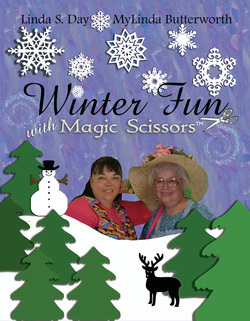 Just Arrived for the Season. Winter Fun With Magic Scissors™ was created for the child in each us. When the air is brisk and there is snow on the ground some will want to go outside and play, while others wish for something quiet and creative. Winter Fun allows you to spend hours with simple tools like paper, scissors and paper punches to create snowflakes, fairies, angels and a multitude of other winter inspired images. Then you can use your images to enhance the reading or telling of a story from a book or one from your own imagination. In the fourth book of the Magic Scissors™ series, Grandma (aka Linda S. Day) teams up with her daughter, MyLinda Butterworth to create a crafting book for kids, parents, educators, and storytellers to enjoy. So open this book and let's all be cut-ups together. Over 50 full sized patterns along with stories and poems.

---
---
---
Our Catalog of Books & CDs

---
---
Children's Books

---
---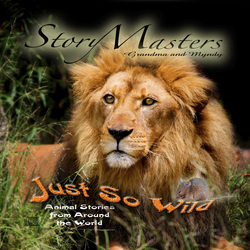 StoryMasters are the Tandem Storytelling Team of Linda S. Day and MyLinda Butterworth also known as Grandma and Myndy. Take a wild ride as you listen to them tell Animals stories from around the world like: The Three Billy Goats Gruff, The Lion and the Mouse, The Elephant's Child, The Bremen Town Musicians and Ramah and the Tigers. You have never heard anything like it ... they grab you and bring you right into the story. It is amazing. You should take a listen and you will understand why this CD is called Just So Wild.
ISBN: 1-890905-26-7 $15.00

CD Review

---
---
---
Craft Books - Magic Scissors Series

---
Our paper crafting books are scissor happy fun anytime of the year. Click on each cover to discover more about this ancient paper-cutting art from award-winning author Linda S. Day

---
Holiday Books

---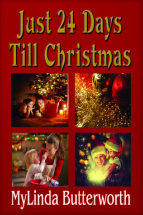 Here's a remedy for what ails the modern Christmas.
Just 24 Days Till Christmas
by award-winning author MyLinda Butterworth.
This is a book for all ages which delivers what today's Santa's can't—directions and fun for celebrating Christmas as a family. A smorgasbord of activities for everyone, young and old, children and adults It is more than a recipe, craft, activity, or storybook. It wraps all of these into one with each of the 24 days leading to Christmas. An advent calendar with a twist. Destined to be a Perennial Favorite.
Popular with busy families who want to find ways to build traditions with their children. Individuals who want to find new ways to celebrate the holiday. Teachers will use all the stories and activities for their classrooms. A great gift idea at an affordable price.
---
Check out the

reviews

on this book.

softcover: ISBN 978-1-890905-10-1 ~ $16.95 ~ 224 pages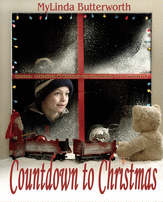 Coming in Fall 2017. What child doesn't anxiously wait for Christmas to come? In Countdown to Christmas award-winning author MyLinda Butterworth helps you have fun with the season by filling each day with a stories, songs, recipes, and fun for the first day of December all the way through the 12 days after Christmas, that is 37 days of fun.


ISBN:1-890905-57-7

---
---
Cookbooks

---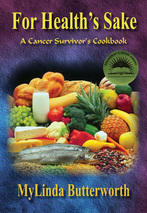 After triumphing over cancer at the age of 22, MyLinda disregards regular chemotherapy treatment and sets out on her own to find a healthful way to deal with the prognosis. The result is this cookbook for healthy cooking. A book based on moderation in all things, not fads, It has nutritional information on all recipes. Good food and good for you.
For Health's Sake was first written in 1981 after so many people requested MyLinda's recipes for healthy cooking. When the first printing sold out, the book was retired. However, the people's interest did not. After being revised for today's health concise society, For Health's Sake, A Cancer Survivor's Cookbook is back again to celebrate MyLinda's 21+ years of cancer free living.
Inside it's pages is her story of survival against the odds, chemotherapy, and a desire to find a healthy way to deal with the prognosis. Over 200 delicious recipes with the nutritional values we've come to expect. There are short articles packed with information about the foods we eat and how to make them work better for you. This book is based on the principal of moderation in all things. It is more than just another cookbook, it will change the way you think about the foods you eat and the way you cook. Read the
reviews
.
---
ISBN 1-890905-18-6 hardcover
ISBN 1-890905-06-4 softcover
224 pages -- Price: $16.95 Softcover -- $24.95 Hardcover
---
History

---
History reminds us of our past and inspires us to re-evaluate our future to insure we don't repeat the mistakes of the past. Here are three great books to learn from. Click on the covers to discover more.

---
Self-Help Books - Inspiration

---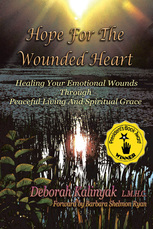 In Hope for the Wounded Heart, by award-winning author and mental health counselor, Deborah Kalinyak shares her own path to emotional healing and her thoughts about mental wellness and spiritual grace. This book will take you on a journey from your head to your heart and you will come to realize that you are not alone.

From the Author: This book is especially dedicated to all those people who have been hurt in the name of religion, who grew up with a God who was portrayed to be mean. It also is dedicated to those people who, through the ages, have suffered physically and emotionally because some humans with religious authority thought they should. My prayer is that you would come to know a loving and accepting God through the pages of this book which tells about my own journey in healing and spiritual grace.

---
Grief doesn't come with an appetite, but we still come to the table.
Hope Sandwich...Finding Your Recipe in Life After Loss
is a gift book for people who are grieving after a loss. Focused on hope rather than grief, it invites readers to express their own story of how we can grow closer to God in the midst of loss.
It begins with the loss of a child leaving the family only one place to turn: their deep and abiding faith. While facing the difficulties of grief, they coped through a metaphorical meal of hope sandwiches representing the positive dreams and aspirations for themselves and the lost child.
Millie Nohren knows what it is like to lose a child.
She's been there
. She knows the difficulty of grief.
She's been there
. Her story evolved into Hope Sandwich which shows how she made a recipe for her life after loss and that others can too.
Loving words, hopeful scriptures, uplifting photos, prayers and pages for readers to start their own grief journal,
Hope Sandwich
is well suited for families with any type of loss.
Read book reviews.
---
---