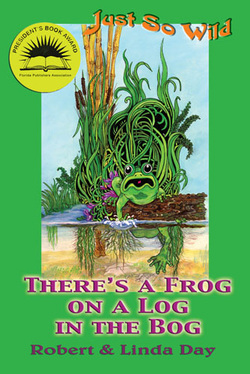 There's a Frog on a Log in the Bog
by Robert O. Day
Illustrated by Linda S. Day
What happens when a modern-day fable collides with the Florida wetlands? Frogazoom! You enter the world of Eco-Fictionª where the real world meets the fictional Og, the king of the frogs. Follow the adventures of this noisy frog as he sings, eats and hops his way around the St. Johns River area. Learn about what kind of bugs and other creatures live near the bog and how they deal with this adventuresome frog.
A 112 page chapterbook for ages 9-12. Included at the end of the book areseveral pages of Eco-Facts where you can learn about Florida'scritters and environment. Number 1 in the Just So Wild series.
Read our Book Reviews.
---
ISBN 1-890905-50-X paperback
ISBN 1-890905-51-8 hardcover
112 pages

Price: $9.95 softcover
$14.95 hardcover